Evaluation
The evaluation domain includes the assessment of needs and measurement of learning outcomes. Revisions to instruction are guided by formative evaluation, a reiterative process for judging the effectiveness of instruction. Instructional technologists also employ summative evaluation to assess the overall success of instruction.
Market Survey--"Teaching with games: A market survey of Web sites supporting classes on games and pedagogy"
Audience: Teachers and administrators
Medium: Print
Executive Summary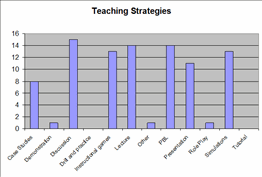 The purpose of this market survey is to analyze Web sites that support classes related to the use of games and simulations in teaching. Fifteen classes at a variety of higher education institutions were found using Google to search the Web. A scorecard was used to evaluate the selected Web sites based on the presence of desired elements both within the site (communications, resources, etc.) and in the class (teaching strategies, readings) and to evaluate the site's design by rating various attributes.
Most of the sites contain information about the instructor, including contact modes, office hours, and sometimes a home page or blog. Most also contain the course metadata that is often found in a syllabus, including course descriptions, goals, and objectives; and meeting and assignment schedules. Many also include assignments descriptions, readings, and supporting materials.
The Web sites are generally well designed, with even the single-page sites using structural HTML and the appropriate formatting to present the information in a readable and meaningful way. Surprisingly few images are used on these sites.
Lecture, discussion, and project based learning are the most prevalent strategies used in these classes, followed closely by instructional games and simulations. By cataloging the most common readings referenced on the sites, several texts were identified as being common across several classes.

View the report

Return to top
Summative Evaluation Plan
Audience: Data mart administrators
Medium: Print
Overview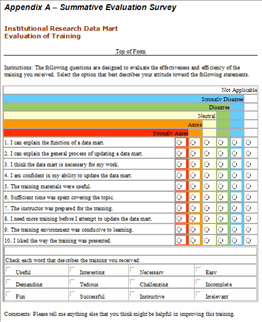 This summative evaluation plan was developed for the "Updating a Data Mart" training described in the Design section of this portfolio. The plan encompasses the first three levels of Kirkpatrick's four levels of evaluation and includes assessment instruments.
After the instruction, the learner completes a summative evaluation survey designed to gauge her attitude toward the training and her perception of its effectiveness and efficiency.
The assessments of learning require the learners to demonstrate their understanding of the data mart process and to apply principles to calculate variable values.

View the report

Return to top
An Analysis of Social Organization and Policy (SOAP)
Overview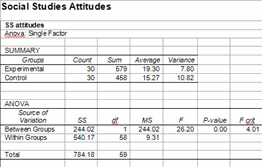 This exercise was part of a research methods class and employs the statistical functions in Microsoft Excel. I performed data analysis by calculating mean, mode, standard deviation, and analysis of variance (ANOVA). I used Histograms to compare groups.
Executive Summary
We conducted a study to assess the effectiveness of the new Social Organization and Policy (SOAP) curriculum. We compared students who were treated with these materials with students who used the traditional Low Option Social Studies (LOSS) curriculum to see if there was any difference in either their attitudes toward Social Studies or their Social Studies content knowledge.
We found that the SOAP curriculum had a positive effect on both their attitude toward Social Studies and their Social Studies content knowledge. Further, we found a high correlation between students' attitude toward Social Studies and their Social Studies content knowledge.

View the report

Return to top